If you haven't ever used trading signals before, then you have no idea what you are missing out on. If you are a beginner trader who does not know how to trade, whether forex, crypto currencies, the stock market, or anything in between, trading signals can help you make profits even if you don't know what you are doing.
Now, some of the very best signals to trade without there come from a service known as income mentor box. For those of you who don't know what income mentor box is, this is a state-of-the-art trading Academy designed to teach everybody and anybody how to be profitable and professional traders. However, it is also a forex, cryptocurrency, and stock market signals service.
Even people who have no clue what forex is or how to trade it can use these signals to make easy profits on a daily basis. With all of that being said, you might not know how to use these trading signals or how profitable they actually are. This is exactly what we are here to talk about today, how much money you stand to make using the income of mentor box signals.
First, we'll take a closer look at what exactly these signals are and how to use them, and we'll then do a little profit update to demonstrate to you just how much money you can make on a daily or weekly basis by using them.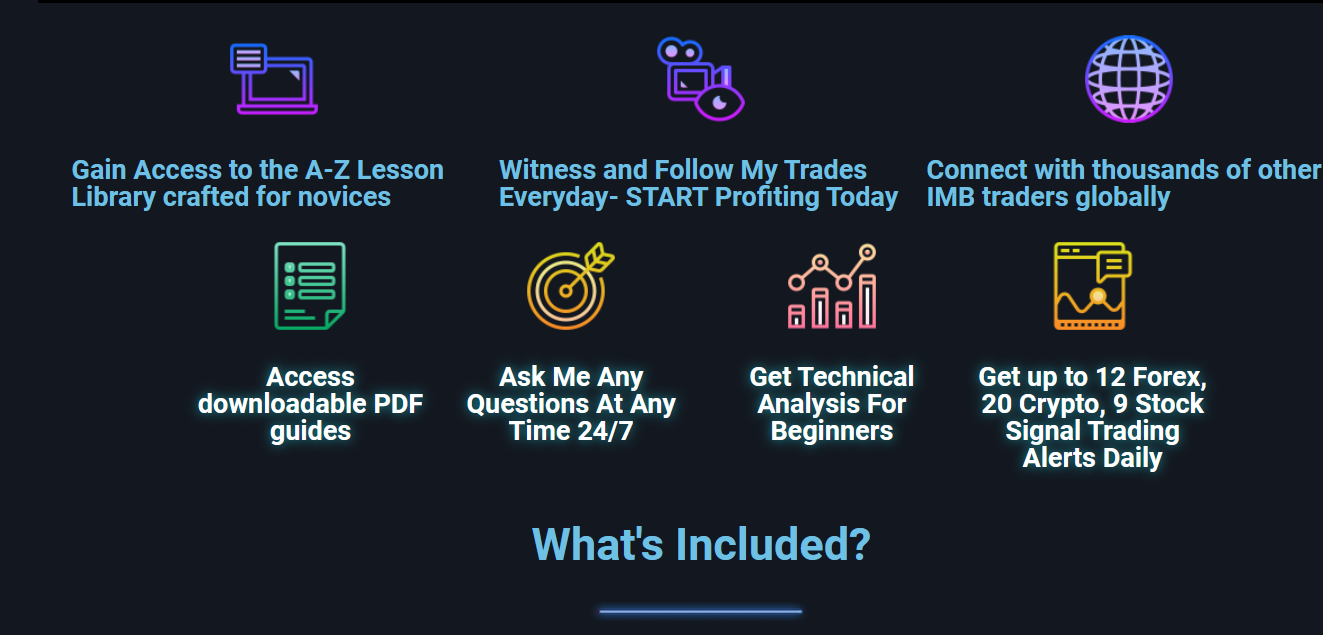 Income Mentor Box Trading Signals – The Basics
First and foremost, income at mentor box is one of the most highly regarded trading academies in the world. It comes complete with well over 75 different lessons, all of which will teach you how to be a profitable trader. This Academy is spearheaded by none other than Andrew A, which you might have already heard of from other previous endeavors.
The income mentor box day trading Academy has been around for many years now, and in that time has managed to garner a reputation for being one of the best in the world. People simply love the fact that this Academy is so easy to learn from. Each of these 75 plus lessons acts as a simple stepping stone to the next, so you learn all the most valuable and important terms, concepts, and trading strategies, in such a way that makes it easy to follow along and understand.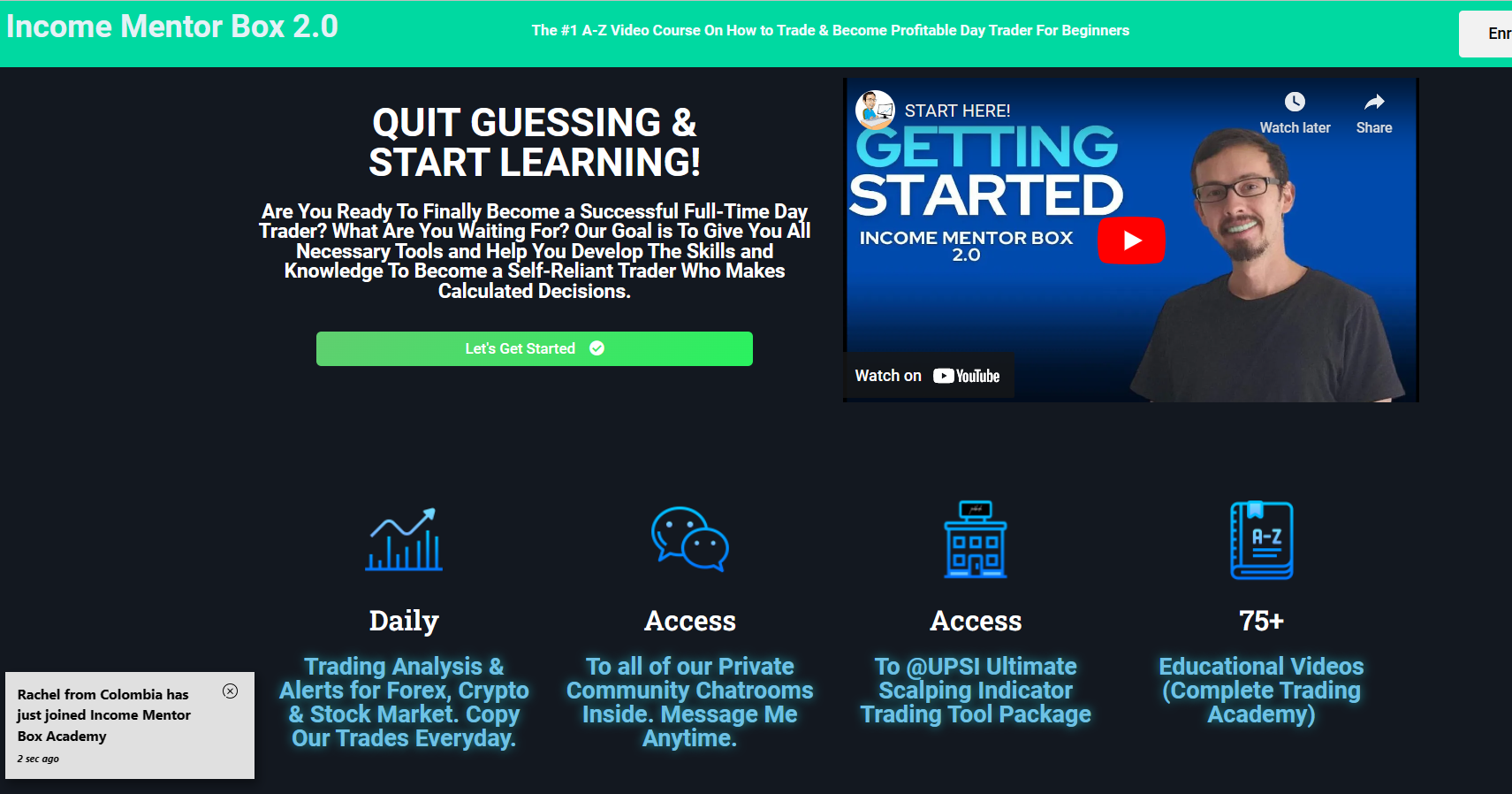 Furthermore, this income mentor box day trading academy was recently updated to also include one of the best forex, cryptocurrency, and stock market signal services in the world. On a side note, you get a full membership, you also get access to what is known as UPSI or ultimate profit scalping indicator, which is at this time one of the very best indicators in the world.
However, what we are really here to talk about today are the trading signals provided by the income mentor box day trading Academy. There is a discord channel available here, over which all of the trading signals get released. On average, you can expect at least nine cryptocurrency, Forex, and stock market trading signals per day, or about 27 signals in total, at a minimum, if not more. This means that no matter if you want to trade forex, stocks, or cryptocurrencies, these trading signals allow for it all.
Now, in case you don't know what trading signals are, these are like very well researched trading ideas. A group of highly skilled trading experts and a series of state-of-the-art algorithms determine what the very best trades for you to make on any given day. These signals, which come complete with be trading assets, the direction to trade in, entry points, exit points, and more, are very easy to use.
As you can see, they come with literally all of the information you need to place profitable trades without actually having to do any of the work period you are told when, where, and how to trade, so the only thing left for you to do is to click your mouse and actually execute the trades. It really doesn't get much easier than that. Let's not forget that these trading signals come included for free with your membership in the income mentor box day trading Academy.
IMB Signals Weekly Results
OK, So what you are probably wondering is just how profitable these trading signals actually are. Well, right now, we want to take a closer look at both the forex trading results and the cryptocurrency trading results produced by the trading signals provided by income mentor box.
If we are looking at the forex signals, the weekly results were just released on April 29th, and these were for the previous week. In other words, these are for the trades placed with forex trading signals from April 24th to April 28th. Here, a total of 27 VIP forex trading signals were produced. 18 of those signals went on to be winners, 6 hit the stop loss levels, and three were still pending.
As you can see, the vast majority of these forex trades ended up being winners, with total profits of 860 pips. We can't tell you exactly how much money you would have made, because this depends on how much money you invested and what your lot size was. However, either way, an 860 pip profit is nothing to look down your nose at.
If we look at the cryptocurrency trading results, these were just as good. The cryptocurrency trading signals provided by income mentor box for the time period between April 24th and April 28th, of the 27 signals provided, 23 ended up being winners with only three being losers, and one still being pending.
Folks, this means that nearly all of the cryptocurrency signals provided ended up producing winning trades, with profits of over 455%. At 455% profit is absolutely amazing, and this alone should be enough to convince you that using income mentor box trading signals is well worth it.
Trading with Income Mentor Box
The bottom line here is that if you want to make good money trading forex and cryptocurrencies, as well as the stock market, then using trading signals from income mentor box is the best way to go about it.
CLICK BELOW TO JOIN IMB 2.0