If you have never tried trading forex before, your best bet is to start by using a good forex signals service. In case you don't know what this is, no worries, because this is exactly what we are here to explain today. Now, specifically, we are here to take a closer look at the Income Mentor Box forex signals service.
First and foremost, we want to do a performance update to tell you exactly how profitable these signals can be. To do this, we're going to take a closer look at one day last week, January 19th, to see exactly how the signals produced on that particular day performed, and how much money they were able to make.

Furthermore, we are also going to focus on taking a closer look at the Income Mentor Box forex signals service in terms of exactly what it is and how it functions. We want to make clear that this is a service that will more or less hold your hand through the entire forex trading process, so you really don't have to do much work or heavy lifting at all.
The simple reality here is that forex trading is of course not easy at all. It takes a lot of skill, knowledge, and the right tools to be successful. If you don't use the right tools or have the required knowledge, you're just not going to make any money, which is of course a problem.
However, with something like the Income Mentor Box for exit signals service, you can make easy money on a regular basis. Let's get to it and take a closer look at the Income Mentor Box forex signal service to see exactly what it can do for you and how it performs on a regular basis.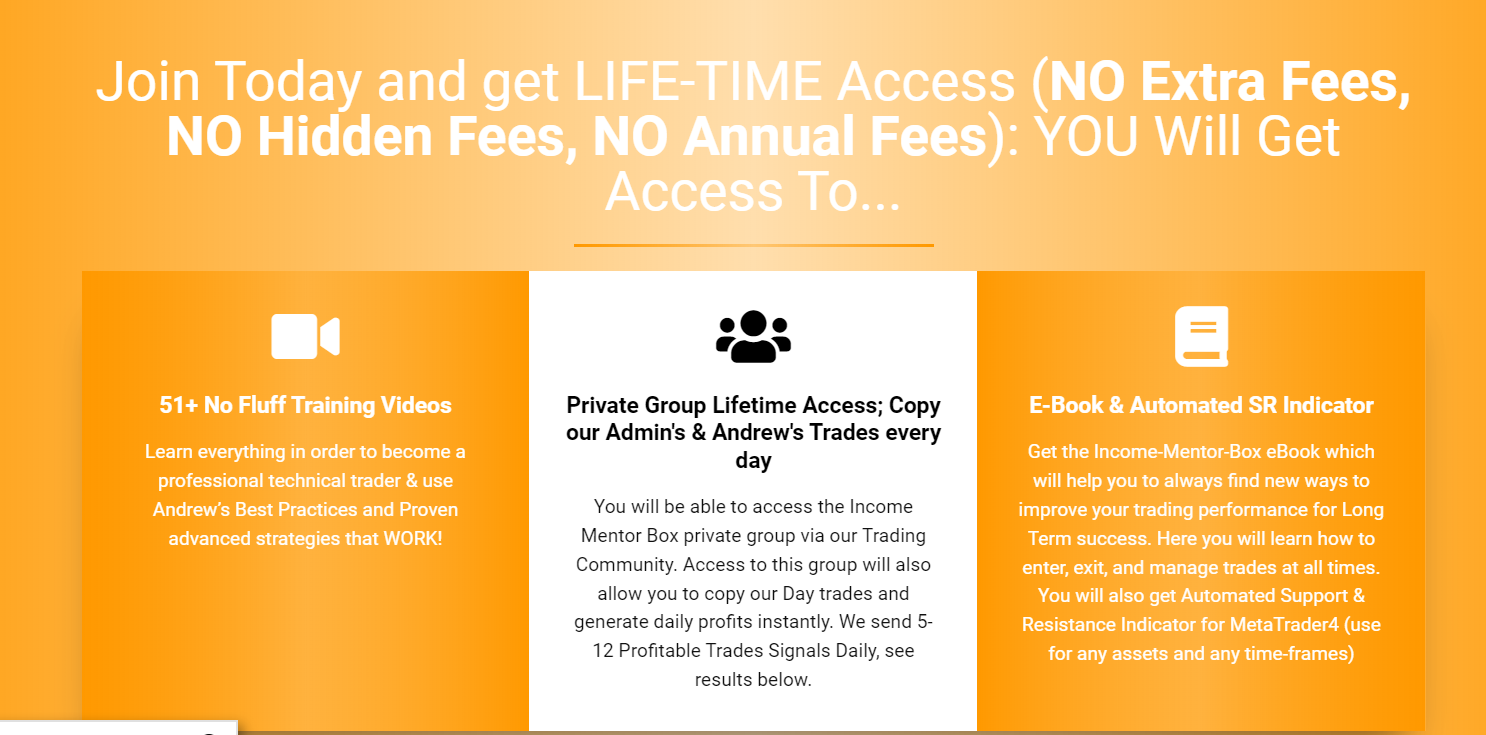 What is Income Mentor Box?
For those of you who don't know what Income Mentor Box is, this is at this time one of the most reputable and trusted forex trading schools in the world. People from all over the world who want to learn how to trade forex the right way come to Income Mentor Box, and there are many reasons for this.
For instance, this is one of the only fully comprehensive forex trading schools in the world that is 100% online, does not have any deadlines, and actually comes in at a reasonable price. For such a low price, you would usually never find such a comprehensive forex trading school.
However, what you got here is a forex trading school that comes complete with over 60 full length lessons, each of which are around 20 minutes long, and each of which come in the form of video tutorials.
The teacher here, Andrew, knows how to teach these difficult concepts in ways that you will be able to understand, not to mention the fact that Andrew himself has been a professional trader for around a decade now. He is one of the best people to learn how to trade forex from. By the end of the 60 lessons, you will know quite literally everything there is to know about forex trading.
With that being said, learning how to trade forex is not easy and it does take time, and it takes a lot of practice to master forex trading. Therefore, while you are still learning, you might want to take advantage of something like a forex signals service. Let's take a closer look at exactly what this is and what it entails.
Why Use Forex Signals?
For those of you who don't know what forex signals are, these are very well researched trading ideas. In other words, here, you get up to 12 profitable forex signals per day. A Forex signal comes in the form of a currency pair. For instance, you might be provided with information for the United States dollar against the Canadian dollar.
Here, you would be provided with the currency pair, which in this case would be USD/CAD, along with the entry point, stop loss levels, and the take profit levels. Therefore, you literally just have to wait for the signal to appear, copy and paste the information as you see it, and wait for the profits to be generated.
It's simply a service that provides you with all the information you need to place profitable trades without having to do any of the heavy lifting or even without having to know how to trade in the first place.
It's just a really easy way to make money without knowing what you are doing. yes, there is a very reliable for us signal service that comes to us from the Income Mentor Box day trading Academy.
Income Mentor Box Forex Signals Update
OK, so we want to take a quick look at the signals that were produced on January 19th by the Income Mentor Box Forex signals service. Keep in mind that there were a total of five signals produced that day, which is pretty good. By signals might not seem like a lot, but we would rather have quality than quantity. The signals from January 19th include the following:
EUR/JPY
GBP/CHF
EUR/GBP
GBP/USD
NZD/JPY
As you can see, these are all major forex currency pairs, with no exotic pairs being included. It's just much easier to trade the major pairs, so this is what Income Mentor Box sticks with. So, what do the profits from these five trades look like?
EUR/JPY +20 Pips
GBP/CHF +100 Pips
EUR/GBP +20 Pips
GBP/USD + 50 Pips
NZD/JPY: HIT STOP LOSS
So, as you can see, four of the five trades ended up being winners, which translates to an 80% win rate. Being able to win 80% of the trades placed, without actually having to do any hard work or heavy lifting is more than you can expect from any other forex signals service out there. Of course, we can't tell you how much money you would have made, because this depends on your initial investment. However, the bottom line is that the Income Mentor Box forex signal service is legit and profitable.
Trading with Income Mentor Box Forex Signals – Conclusion
Whether you want to learn how to be a profitable trader or you just want to use an awesome forex signals service, Income Mentor Box is absolutely the place to be.
CLICK BELOW TO JOIN INCOME MENTOR BOX AND START MAKING REAL PROFITS!