The NEW Stock Trading Mentor Box
The stock market is currently seeing some huge movement, which means that there is no time like the present to start trading stocks. That said, if you are very new to the world of the stock market, it may all seem very intimidating to you. After all, the stock market involves trading and investing large sums of money. Sure, the potential for reward is huge, but so is the risk you face. Well, this is where the new Stock Trading Mentor Box course comes into play.
Yes, this is a brand-new stock market trading course, one designed for newbies, but one that can also be used by people who already have some experience with stocks, The whole point of the Stock Trading Mentor Box course is to teach you everything there is to know about trading the stock market.
The end goal is of course to turn you from a newbie into a professional, profitable, and self-sustaining stock market trading guru. Now, this course is still very new, and in fact, it was just released to the general public.
Today, we are here to do our first Stock Trading Mentor Box review to see what it is all about. We do have to say that from everything we have seen, particularly the fact that the mentor here is a world-class trader who has seen long-term success, that this is likely to be one of the very best stock market trading schools out there. Let's get to it and find out whether or not the Stock Trading Mentor Box academy is right for you.

What is Stock Trading Mentor Box?
To put it simply, Stock Trading Mentor box is a 100% online course for aspiring stock market traders. What's really cool about this is of course that you can learn stock market trading from the comfort of your own home, and on your own time too.
This trading course is solely dedicated to stock market trading, but that said, many of the concepts and strategies that you learn here can be applied to other types of trading. Don't be fooled either, because from what we can tell, this is a full-scale course that is super comprehensive.
It's designed not only to provide you with a basic framework and a foundation of knowledge, but to really teach you how to put those concepts into action.
Sure, you'll learn the basics no doubt, but the in-depth tutorials on the best stock market trading strategies are where it's really at. It's about providing you with actionable intel that you can put to use immediately, to make money trading the stock market while managing risk the right way.
Don't think that this is some dry course either, because it's certainly not like some dull lecture in a university lecture hall. All of the lesson at Stock Trading Mentor Box are taught on video by the instructor himself, they're all quite interactive, and everything is shown to you using live examples and through realtime trading.

Who is it Designed for?
In case you are wondering whether or not the Stock Trading Mentor Box course is right for you, just ask yourself one question. Do you want to make money trading stocks, but don't know how? If you answered yes to that question, then this stock market trading course is right for you.
Now, do keep in mind that this course is obviously designed for newbies and inexperienced traders, as it does start out by focusing on the basics and fundamentals. However, this is not to say that a seasoned stock market trader couldn't learn a few valuable strategies and advanced trading techniques.
Simply put, if you want to build your knowledge of stock trading, you want to become a pro, and you want to make money trading stocks, and feel comfortable doing it, then the Stock Trading Mentor Box academy is something that you should probably look into.
Remember folks, stock market trading is not just something that you can start doing without the proper knowledge and experience. With the right kind of education, trading stocks is easy, and that is what you get with Stock Trading Mentor Box, the right kind of education.

Who is the Mentor?
Something else that you might be wondering about Stock Trading Mentor Box is who the actual mentor is, the teacher who you will be learning from. Well, his name is Andrew. A, and yes, this is the same Andrew from the hugely popular Andrew's Trading Channel on YouTube, a channel dedicated to Forex and everything trading.
You may also know Andrew from the Income Mentor Box Day Trading Academy, a trading course just like this one, but designed for Forex as opposed to stocks. What we want to say here is that for one, Andrew's Income Mentor Box Academy has rave reviews from thousands of satisfied students who used his teachings to become profitable and professional Forex traders.
As far as we can tell, there is no reason to think that this Stock Trading Mentor Box academy won't be just as successful. It's the same great teacher, just different material. Andrew also has several other trading-related social media channels, various trading signals groups, and more. By all means, Andrew has proven himself to be a legit force in the world of stocks, Forex, and crypto, and we think that he is a great person to learn from.
What we do also want to note is that Andrew makes learning both simple and fun, something that is not easy to do, and it's all thanks to his friendly demeanour, his wide knowledge base, and his way of explaining everything in simple detail. Andrew doesn't try to confuse you with big words to make himself seem fancy.
He just provides you with the info you need, along with some great trading secrets and tips, to turn you into a self-reliant and profitable stock market trading machine. There's also the fact that he explains everything using live video examples, and often trades in realtime right on camera as he provides you with the lesson at hand. Learning something is always much easier when you can see it being done live on video.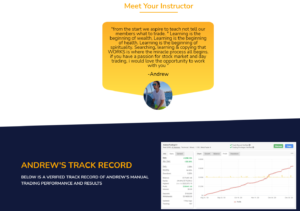 The Stock Trading Mentor Box Curriculum
The Stock Trading Mentor Box curriculum consists of well over 50 full-length lessons, each of which takes the form of an easy-to-follow video tutorial where Andrew does everything live on camera.
Yes, it starts out with the basics, but it quickly advances to some of the more complex aspects of stock market trading, complete with in-depth tutorials on specific trading strategies proven to work time and time again.
Below we have a sneak peak of just some of the curriculum, and the lessons, just so you know what sort of content to expect in this course.
Eliminating Risk – How to reduce and eliminate risk from trading, so you can feel safe in the stock market.
Saving Time and Making Money – Strategies to help you maximize profits while minimizing time spent trading.
Finding Out What Type of Trader You Are – Different people trade different ways, and here you will find out what works best for you.
Controlling Your Emotions – Emotions have no place in trading, and here you will learn how to leave them at the door.
Andrew's Best Trading Strategies – Andrew has spent years perfecting various trading strategies, and here you will learn the best ones in his arsenal, ones that no one else knows about.
Analytics – Stock market trading is highly analytical no doubt, and here you will learn how to perform in-depth and valuable market analysis.
Indicators, Scanners, and More – Yes, trading involves plenty of indicators, oscillators, charts, graphs, scanners, and more. You'll find out all about them with Stock Trading Mentor Box.
AND MUCH, MUCH MORE – There are over 50 full length lessons in the Stock Trading Mentor Box curriculum, so plenty more for you to learn!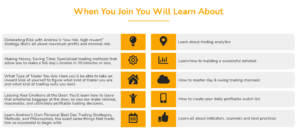 What Will Stock Trading Mentor Box Teach You?
We took a sneap peak at the Stock Trading Mentor Box curriculum, which is nice, but when it comes down to it, what does it really teach you? To sum it all up, there are five main concepts or teaching goals, five main benefits that you will end up walking away with once you complete the course.
The Best Trading Strategies
One of the main points here is to teach you the best, the easiest, and the most profitable stock market trading strategies known to man, and some that just Andrew knows too. Yes, that is right, here you will learn advanced and modern trading techniques that can help you maximize profits and minimize risk, and yes, some of these techniques were created by Andrew himself.
Proper Trading Discipline
One of the issues that the majority of newbie traders face, as well as many seasoned veterans too, is a lack of discipline. People, in this sense, trading is no different that learning anything else, whether how to play an instrument or how to become a world class chef.
It's all about dedication and discipline, but without overloading your brain and causing you to burn out. This is what you get with Stock Trading Mentor Box, an education on proper trading discipline that you can put you on the path to success as opposed to putting you on a path to a nuclear meltdown.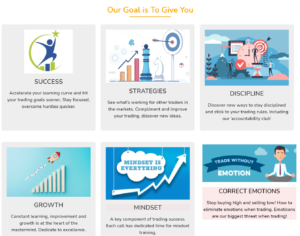 How to Maintain Constant Growth
One old saying that we think holds true when it comes to trading, as well as learning about trading, is that if you aren't moving forward, you are moving backwards. In other words, in order to be successful and to keep seeing success, you need to constantly grow. You always need to learn more, do more, and do better. This is what Stock Trading Mentor Box is all about, teaching you how to grow consistently, and this is true both in terms your knowledge and skill, as well as your profits.
The Right Mindset for Stock Trading
A big part of trading is having the right mindset, which means leaving your emotional baggage at the door and trading with your brain. It's about managing your money, managing risk, and being able to handle a certain level of risk. This trading school will teach you that although it is not desirable to lose money, it does happen on occasion, and as long as you don't end up losing more money than you make, it's all good.
How to Overcome Hurdles and Achieve Success
Of course, no matter what you do, there are always going to be hurdles in your way. This is just the way life is. Stock Trading Mentor Box will teach you how to overcome any hurdles that might be in your way, so you can be on the right path to success. It's all about putting money in your pocket.
The Free UPSI Indicator
What is really cool about the Stock Trading Mentor Box course is that it comes with something very special included for all members, and totally free too. This is the UPSI indicator. Now, we don't want to get too much into the science of it here, but the fact of the matter is that the UPSI indicator is a fantastic tool that all sorts of traders can put to use, an indicator created by none other than Andrew and his team of experts.
The UPSI indicator provides you with accurate and reliable BUY/SELL signals for you to follow. What's super cool about UPSI is that it is not like other indicators in the sense that there is not much analysis to be done. With other indicators, you really have to know how to perform analysis and how to read them, but not UPSI.
This is a super simple and virtually fool-proof indicator that more or less holds your hand through the trading process. It tells you when to open trades and when to close them. When it comes down to it, that is really all you need, the right entry point and the right exit, which is exactly what you get with the Stock Trading Mentor Box UPSI Indicator.
On a side note, if you don't want to take this stock market trading course, but you do want the indicator, it can be purchased separately. However, there is really no point in purchasing the indicator separately when it comes included for free along with one of the world's best stock market trading curriculums.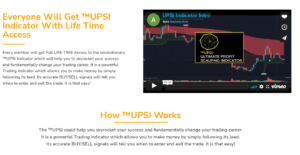 A Free Ebook
Not only do you get a free state-of-the-art stock market indicator that Andrew and his team created themselves, but you also get a free Ebook that can teach you some valuable facts about stock market trading.
This trading Ebook contains a lot of good information about indicators, using support and resistance levels, charting, candlesticks, and so much more.
Of course, to get a full education on stock market trading, you do want to take the whole course, but this Ebook is a great introduction the topic. It's something we would definitely recommend taking a closer look at before working your way through hr Stock Trading Mentor Box curriculum. It's just more value and useful content that you get free of cost.
Stock Trading Mentor Box Cost & Membership Info
What you are probably wondering now is how much this whole thing is going to cost you. Well, the cost of becoming a member of Stock Trading Mentor Box is a very reasonable $399. People, there are other stock market trading courses out there, even ones that you can take in real educational settings such as college and university, ones that cost many more times to take, yet don't provide any additional value.
People, Stock Trading Mentor Box will teach you absolutely everything you need to know to be successful in the stock market, and all for one low price. Now, do keep in mind that this is a onetime payment with absolutely no hidden or recurring fees. Once you make that payment of $399, you become a lifetime member. Once you are a member, you have unlimited and lifetime access to all course content.
This is of course great, because although some people may be able to work through it in two weeks, and only need to watch each lesson once, you might want to take longer to work through the material, which is perfectly fine. Moreover, there are various payment options for you to choose from, so that shouldn't be a problem either. Let's not forget that the UPSI INDICATOR is included here free of cost!
Stock Trading Mentor Box Review – Final Thoughts
When it comes down to it, from what you have seen in this Stock Trading Mentor Box review, it's a great place to be if you plan on becoming successful in the world of stocks.
From the right mindset and how to control emotions to finding out how to use indicators, scanners, and learning what the best stock market trading strategies are, by the end of this course, you should be a stock market trading professional.
Of course, there is no substitute for real life experience, which is exactly what this course gets you ready for.
It will teach you all of the basics and fundamentals of stock trading, as well as the complexities and more advanced aspects too. By the end of this two-week course, you should be as good a stock trader as anyone else out there!
CLICK ON IMAGE BELOW TO JOIN